132 Funny Country Puns & Jokes That Know No Boundaries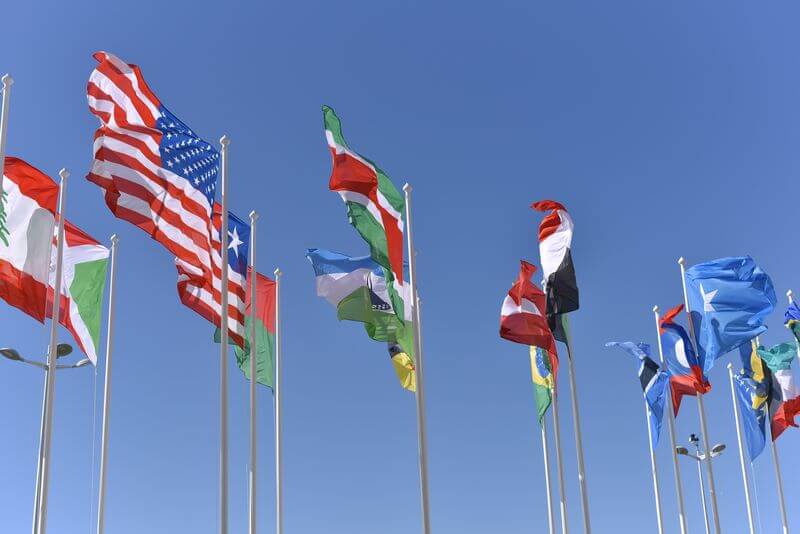 Let's take a whimsical journey across the globe as we delve into some great country puns and country jokes inspired by different parts of the world. From the rolling hills of Ireland to the vibrant streets of Brazil, this light-hearted list invites you to explore the humor and wordplay that transcend borders!
Whether you're a seasoned traveler or an armchair adventurer, prepare to be entertained, amused, and delighted by what we've gathered below.
---
As I kid, I played with Tonga trucks.
Yemen, let's go.
They Tokelau-t. So, there's not much left.
There's no need to rush, it Kuwait.
I'm so Hungary.
Can you think of any country puns? Kenya help me?
I really need a tropical vacation but I just don't know Hawaii can go with all this work.
I had to get up early to Palau the fields.
Let's go s-Cuba diving.
Are you dining in or is this Togo?
Pass the Bhutan.
Is that German? He seems nice.
When fruits go on vacation, they go to Pear-is.
What is the name of the nation where you find people with brown eyes? You find them in Brunei.
Only one city in France is Nice. All the other cities are not Nice. (Apologies to the French who do not live in Nice)
What is the name of the nation where crows from Asia go to hibernate? They go to Croatia.
Once during my trip to Europe, I was feeling so Hungary that I had to Russia to get some food.
I'm Ghana go to the beach.
Due to a problem, I had to cancel my trip to Africa. I am Chad about it.
What is that nation where people love staying in a lower yoga position? The Netherlands!
I'm feeling a bit Chile. I better get a New Jersey.
Do a tick and the Eiffel Tower have anything in common? They're both Paris sites.
I'll have a de-Luxembourg-er.
I wanna tell you a story about a European car… It's a Saab story.
The opposite of old age is Niue-ge.
There's lots of crime in West Africa. If you're not careful, you're Ghana have a rough time.
While experimenting with Asian and Latin American food, Iran out of Chile.
I'm always Poland strings for you.
There was an Indie rock band that would only play in venues in the West Indies.
Which is that state where so many germs are present? It is the state of Germany!
I have no Guams about sunshine, but man, Ta-hiti wave is really killing me.
What is the African state where the shops always give a discount and people have to keep on grabbing things during shopping? This happens in Gabon.
Don't know if my girlfriend likes country puns. Alaska later.
Iceland in Keflavík tomorrow at noon.
If you want to row to the mouth of the river by sunset, Danube better get started right away.
Went to the supermarket. Abbottabad fish. Now I've got a bad tummy.
I'll need a coat because it's a bit Chile.
Last year, I had to catch a flight to visit my friend on another continent and Oman, I missed the flight because of the traffic.
In which state do the people always want to serve and protect you? This happens in the nation of Serbia!
This is something to Tonga-bout.
Kenya think of anything more fun than geography?
What is the nation where everyone lies in a bar? This occurs in the nation of Liberia.
Where is the nation where people gamble with tea? This happens in Tibet.
Oman, that's going to be tough.
There is a nation in Asia where you can get customizable puns just for you. You get them in Japan.
In the Geography quiz on the Middle East, Iraq'd my brain to think of the answers.
Because I couldn't find myself a burger in Baghdad, I had to get Iraq of beef ribs instead.
I can't Belize it!
I Haiti see you like this.
Taiwan shoe. Then, Thai the other.
I have no Guams about telling bad puns but there's Norway I'll stoop Oslo as geography jokes.
Idaho how many more country puns I can listen to.
Ireland is easily the fastest-growing country. They say the population is Dublin every year.
A friend posted on Facebook that her kid texted, "I'm hungary. Is dinner soon?" I commented: Here's what your reply should be: "Thanks for Czech'ing in. Tonight, we'll have Turkey.
You're one in a Brazil-ion.
What is the name of the nation where people go to learn a computer program? They go to the nation of Java.
Which country has the chequered flag from the races as its official flag? We are talking about the Finnish flag!
I don't want to go to Central America as I absolutely Haiti the place.
After facing a problem in geography, Iraq-ed my brain for a solution but India end I couldn't find one.
I met this person on the internet. When I asked him where he was from, he said from Latin America. I replied, "I won't Bolivia until you show some proof!"
My friend had gone to an African fair and was thinking of buying a rare mask, but it was way too expensive. So I asked him later, "Djibouti the mask?"
Which country is the fastest? Iran.
I'm Zealand the deal.
Don't worry. A good country pun is coming. Kuwait a little longer?
Someone beat me up with a map of Belgium. Now I'm covered in Bruges.
Armenia, if you insist.
Hey, you really gotta Czech out this great collection of country puns.
Which African state did the robot Wall-E visit? He visited Mali.
Oh, Guam on.
A few years back, when I had lost my job and my house, my father advised me to start life afresh, with a new bit of energy and enthusiasm. So, I moved to NewZealand.
What literally looks like half of North Korea? South Korea!
It Tokyo long enough to notice.
Which is the island state that has no good singers? There are no good singers in Singapore.
Growing up, I watched Curious George Andorra the Explorer.
Are you guys China be funny? Get serious.
Everyone's Russian through the airport.
My favorite animals are Wales.
I don't Bolivia.
I have a good geography teacher. She makes sure lessons are not Bahrain.
My girlfriend doesn't like hairy guys, so I shaved my Manchester for her.
Eating the wrong food in South East Asia can really make you feel Laos-y.
I'll Czech it out.
Hey guys! Can Jamaica more funny country puns?
I had a friend named Tina who was always in a state of hurry. Guess, this is why she is from Argentina.
I have Togo.
I booked a ticket to Cairo for my fiancee. I wanted Egypt like this to give on her birthday.
My holiday in Switzerland was okay, but I must say their flag was a BIG PLUS!
My favorite drink is a Malta milkshake.
What is the name of the nation which invented lollipops? It was the nation of Lichtenstein.
Many people say that there is no way one can go to Tibet, but I'm China not think about it.
Whenever I visit Paris, I can feel myself fading away from reality. Guess, I always fall into a France.
Hey Bill, I'd like to holiday in South America. I figure Uruguay who would know some things to do there.
Which is the nation where you get to see cranes all the time? You get to see it in Ukraine.
Last summer, I visited a desert in the Middle East. It was a Bahrain place.
Did you know that all the retired army generals live in the Marshall Islands?
After having a fight with the mad hatter, Alice left Wonderland and took a plane to Ireland.
What should be the ideal name of the USA's neighbor, Mexico? It should have been called the USB.
I wrote a book a-Bahrain.
There was this small country that I visited last year. Upon arriving at the airport, I only saw women everywhere. So I asked at the help desk, "Armenia?"
Uganda be kidding! There is nothing more fun than geography.
What is the name of the nation where everyone counts things on their own? It is the country of Italy.
Mona decided to open a company. She registered it under Monaco.
Where do French Fries come from? Grease.
Where's your Papua?
Where did you get Japan-ts? I want a pair.
Among all the countries in the world, which is the most slippery? Greece.
Which is the nation where they always use sweeteners in every food item? They do it in Sweden.
I have decided that for my summer holidays I am Ghana go for a vacation to the continent of Africa.
Which is the country where all the fishes in the world stay? The nation of Finland.
I wanted to drink a cup of tea in Havana, but I couldn't because they didn't have a Cuba sugar.
Mexicans enjoy what kind of sport most? Cross country.
I was standing outside in Bahrain. I got soaking wet.
Iraq-d my brand new vehicle.
There are lots of countries in Africa I holiday in, I'm just not Ghana.
My new hobby is playing the Qatar.
I'm Havana great time in Cuba.
I didn't know there was an earthquake happening until I saw all Djibouti shaking.
My best friends Sydney and Adelaide are from New Zealand.
These puns are such Japan in the neck! Kyrgyz! Kyrgyz! you all!
What name can be given to a nation where everyone congratulates each other and dances? We shall name it Congo.
Which is that country where if you don't follow the rules and customs, you are banned from entering it again? It is the country of Albania.
Once when holidaying in the Middle East, I needed to poop so badly, Iran to the toilet.
Do you know a good place to vacation in South America? I assumed Uruguay who'd know.
A man needed to poop so badly he was Russian to the toilet.
Ouch… when you gobble your food so fast you'll bite your Tonga!
James had gone on a trip to the Masai Mara forests. There, during the safari, he asked his guide, "Kenya pass me the binoculars?"
What is that country called that is hot and cool at the same time? It is called Chile.
Sweden your coffee with sugar.
Warned not to make more Irish jokes, O'Neil was Dublin down and making more!
It's too SomaliaMake it bigger.
Is this a rock? Well, Estonia.
I didn't see it coming. The whole thing happened so Sudan-ly.
---
Share These Around The World!
Hopefully these funny country puns and country jokes were entertaining and gave you something you can use on your next trip overseas. Each pun offers a delightful glimpse into the uniqueness of every country, so take some time to appreciate it!
We know this list was long, but let us know if you happen to know any others we should include. We constantly get great suggestions from our readers and want that to continue!